jane gifford's italian gourmet travel
a photographic travel guide to Italy
malcesine
There is a lot more to Malcesine than the obvious charm of its picture postcard scenery and local people think it's time to put the place on the map for more than the usual tourist package. Like the Pallua family for example. In the 1960's they bought a hotel on the shores of Lake Garda and made their mark by completely demolishing it. They replaced it with a building that they designed themselves. Sprawling budget holiday developments with nothing to offer locals were spreading everywhere in Malcesine. The Pallua's aim was to provide a lakeside bar, restaurant and high quality accomodation without ruining the landscape surrounding Malcesine.

The resulting Hotel Europa is a showcase of modern Italian elegance and simplicity. Floor to ceiling windows throughout have views to die for across Lake Garda to the Dolomites on the opposite shore. The pool comes with a jacuzzi, wave machine, Turkish bath and gym. The hotel Ristorante al Pontile draws on local ingredients, recipes and wines. The food is excellent and beautifully presented. Hotel Europa has become a favorite venue in Malcesine for local wedding parties, conferences, a lakeside beer or a special meal out. And it is truely a family affair - the parents, their children and grand children dine alongside the guests and are always on hand for help and advice. It's a pleasant and easy 10 minute walk overlooked by the castle from Hotel Europa along the shore of Lake Garda in to Malcesine.

Hotel Europa Via Gardesana 173, 37018 Malcesine tel: (+39) 045 740 0022
Marco and Luisa Pallua run the Osteria alla Rosa tucked away on Piazza Baccaro off a quiet backstreet in Malcesine close to the castle but away from the usual tourist bustle. This old establishment has been at the centre of the local community since 1919 and Marco and Luisa have worked hard to keep this tradition alive since fully modernising the place in 1998 and introducing an original and contemporary menu. It's pop[ular with the young and old boys still come to discuss the best fishing, while women exchange recipes and gossip over their knitting. Osteria alla Rosa is open from 8.30 in the morning right through to 2am the next day. Local small producers provide most of the ingredients. The Pallua family are amongst the first to receive the best of the season's local produce like delicious white asparagus, fish and cheeses.They help to promote and organise festivals celebrating regional specialties. Ask at the bar to find out what's on. 'We aim to put Garda's food on the tourist map', says Marco.

Osteria alla Rosa Piazza Baccaro 5, Malcesine tel: (+39) 045 657 0783

My advice to anyone visiting Malcesine would be to seek out food and entertainment away from the teeming waterfront bars. You don't have to walk far to get a true taste of the place and you will be doing your bit to bolster the real life, traditions and produce of the locals. It's barely a 5 minute walk from the waterbus stop to Porto Vecchio, the old port with steps down to the water's edge where the women used to do their laundry. Ristorante Porto Vecchio is full of art books for you to peruse and here conversation seems as important as the procedes of the bar. You can sit outside on peaceful little Piazza Magenta and enjoy a different view across Lake Garda.

Ristorante Porto Vecchio - Piazza Magenta, Malcesine, tel:(+39) 045 658 4335
A regular contributor to the cuisine of
Osteria della Rosa
is Flavio Chincarini. He and his wife Angela have been farming here for thrty years producing butter, cheese from goat and cow's milk as well as salami and olive oil. Take a guided tour of the farm with Flavio. Be shown how cheese is made in the dairy and buy all produce as fresh as it comes from the farm shop. When the weather improves the Chincarini family transfer their home and livestock to their farm on the high mountain slopes of
Monte Baldo
above Malcesine. Take a cable car ride to the
mountain tops to experience mountain life.
Azienda Agricola, Famiglia Chincarini, Via Bassinel, 10A, Malcesine
tel: (+39) 045 740 0889/ 045 657 0269
arco
Beautifully situated at the northern head of Lake Garda and the mouth of the River Sarca and with the added benefit of a mild Mediterranean climate, the neigbouring towns of Arco, Riva del Garda and Torbole have long been hot property. Everywhere you look there is evidence of centuries of conflict between the indigenous peoples and those who have attempted to capture and keep ths little piece of paradise for themselves. Fuedal castles and fortresses dominate the surrounding mountains. The most dramatic is Arco Castle, perched on a craggy limestone outcrop amongst cypress trees and olive groves some 250m. above the town of Arco.

Castello di Arco tel: (+39) 0464 516161
Agritur Vivere is a working farm just outside Arco with mountain views, surrounded by its own vineyards and orchards, producing fruit, wine and olive oil. Edy and Michela will offer you a warm welcome to their large beautifully appointed self-catering suites, all imaginatively designed by local artists and the buffet breakfasts by the side of the pool are delicious and include lots of fruit produced on the farm. Bikes are provided and it is an easy 15 minute ride on the much-heralded cycle track along the bank of the River Sarca down to the the lake at Lido del Garda (see picture with swans at top of page). From here you can cycle all around the lake. A visit to Arco Castle with its stunning views south over Garda and towards the high Dolomites in the north is well-worth the short but rather steep climb. Wander (or free-wheel) back down in to Arco through medieval Stranforio. Arco Castle is open 10am-4pm every day except Monday. January only open weekends.

Agritur Vivere Via Epifanio Gobbi, Arco tel: (+39) 0464 514 786

It is easy to get to Lake Garda today without having to be part of a package holiday. There is a free transfer bus from Verona and Brescia airports which will take you to all destinantions on the eastern shore of Lake Garda. There is small charge for the service from Milan. Call for bookings (+39) 045 620 9428. Once there, you can travel to all destinations around the lake by waterbus.
To see more of Jane's work visit
© Jane Gifford 2014
Lido del Garda (above)
© Jane Gifford 2014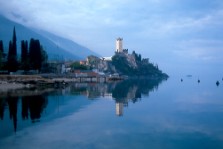 Malcesine & Lake Garda
© Jane Gifford 2014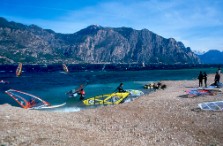 Windsurfing on Lake Garda, Malcesine (next door to Hotel Europa)
© Jane Gifford 2014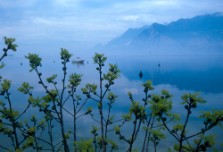 Wild Figs, Malcesine, Lake Garda
© Jane Gifford 2014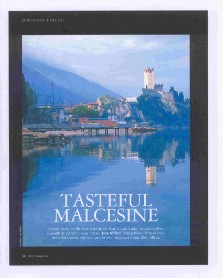 Magazine Feature
Click on image above to download feature on Malcesine in Italia! Magazine (6 pages), Copyright Jane Gifford 2014

Arco Castle, Trentino
© Jane Gifford 2014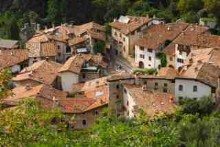 Rooftops of Stranforio, medieval Arco © Jane Gifford 2014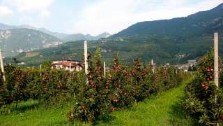 Arco,
Vivere
, Apple Orchards
© Jane Gifford 2014
La Rochetta, Riva del Garda
© Jane Gifford 2014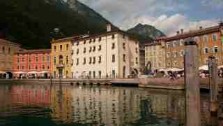 Riva del Garda, Lake Garda, Trentino
© Jane Gifford 2014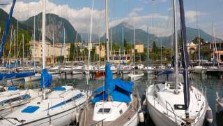 Marina, Riva del Garda, Lake Garda
© Jane Gifford 2014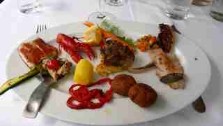 Fish from Lake Garda,
alla Terrazza
, Torbole
© Jane Gifford 2014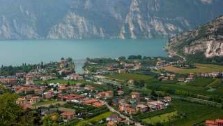 River Sarca joins Lake Garda, al Forte Alto, Nago
© Jane Gifford 2014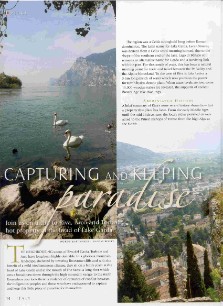 Click on image above to download feature by in Italy Magazine on Riva, Arco & Torbole (6 pages) , Copyright Jane Gifford 2014